Hurricane Maria aims at Puerto Rico after slamming Dominica
As rains began to lash Puerto Rico, Gov. Ricardo Rossello warned that Maria could hit "with a force and violence that we haven't seen for several generations."
"We're going to lose a lot of infrastructure in Puerto Rico," Rossello said, adding that a likely island wide power outage and communication blackout could last for days. "We're going to have to rebuild."
Authorities warned that people in wooden or flimsy homes should find safe shelter before the storm's expected arrival Wednesday.
"You have to evacuate. Otherwise, you're going to die," said Hector Pesquera, the island's public safety commissioner. "I don't know how to make this any clearer."
By Tuesday evening, the U.S. National Hurricane Center in Miami said Maria's winds had intensified to 175 mph (280 kph) and additional strengthening was possible. At 10 p.m. EST, Maria was centered about 40 miles (65 kilometers) south-southeast of St. Croix, or 135 miles (215 kilometers) southeast of San Juan, Puerto Rico, and was moving west-northwest at 10 mph (17 kph).
Maria's center was expected to pass several miles south of St. Croix late Tuesday on its way to Puerto Rico, prompting U.S. Virgin Islands Gov. Kenneth Mapp to ask that people remain alert.
St. Croix was largely spared the widespread damage caused by Hurricane Irma on the chain's St. Thomas and St. John islands just two weeks ago. But this time, the island would experience five hours of hurricane force winds starting about 11 p.m. EST, Mapp said.
"For folks in their homes, I really recommend that you not be in any kind of sleepwear," he said during a brief press conference late Tuesday. "Make sure you have your shoes on. Make sure you have a jacket around. Something for your head in case your roof should breach. … I don't really recommend you be sleeping from 11 o'clock to 4 (a.m.). … Be aware of what's going on around you."
The warning came after Dominica Prime Minister Roosevelt Skerrit sent out a series of dramatic posts on his Facebook page as the storm blew over that tiny country late Monday — but then stopped suddenly as phone and internet connections with the country were cut.
"The winds are merciless! We shall survive by the grace of God," Skerrit wrote before communications went down.
A few minutes later, he messaged he could hear the sound of galvanized steel roofing tearing off houses on the small rugged island. He said that even his own roof had blown away.
In the last message before falling silent, he appealed for international aid: "We will need help, my friends, we will need help of all kinds."
The storm knocked out communications for the entire country, leaving anyone outside Dominica struggling to determine the extent of damage, though it was clearly widespread. "The situation is really grave," Consul General Barbara Dailey said in a telephone interview from New York.
She said she lost contact with the island about 4 a.m. At that point, officials had learned that 70 percent of homes had lost their roofs, including her own.
"I lost everything," she said, adding there had been no word on casualties. "As a Category 5 it would be naive not to expect any (injuries) but I don't know how many," she said.
The island's broadcast service was also down Tuesday and Akamai Technologies, a company that tracks the status of the internet around the world, said most of Dominica's internet service appeared to have been lost by midday. The Ross University School of Medicine in Dominica reported a widespread loss of communication on the island, and relatives of students posted messages on its Facebook page saying they had been unable to talk to their loved ones since late Monday evening as the storm approached.
Dominica is particularly vulnerable to flooding because of its steep mountains, cut through with rivers that rage even after a heavy rain. It was still recovering from Tropical Storm Erika, which killed 30 people and destroyed more than 370 homes in August 2015.
Officials on the neighboring French island of Guadeloupe reported at least one death: a person hit by a falling tree. They said two other people were reported missing after their boat sank off La Desirade island, just east of Guadeloupe.
About 40 percent of the island — 80,000 homes — were without power and flooding was reported in several communities.
In the Puerto Rican capital, San Juan, normally crowded streets and beaches were empty by Tuesday afternoon as families heading to safe shelter packed up their cars and pets or secured windows and doors around their home to prepare for severe winds expected to lash the island for 12 to 24 hours. Nearly 2,800 people were in shelters across Puerto Rico, along with 105 pets, officials said.
"We're definitely afraid," said Erica Huber, a 33-year-old teacher from Venice, Florida, who moved to Puerto Rico a month ago with her 12-year-old daughter.
"I'm more worried about the aftermath: Is there going to be enough food and water?" she said.
In shops across the island, shelves were bare after people filled shopping carts with the limited amount of water, batteries, baby formula, milk and other items they could find.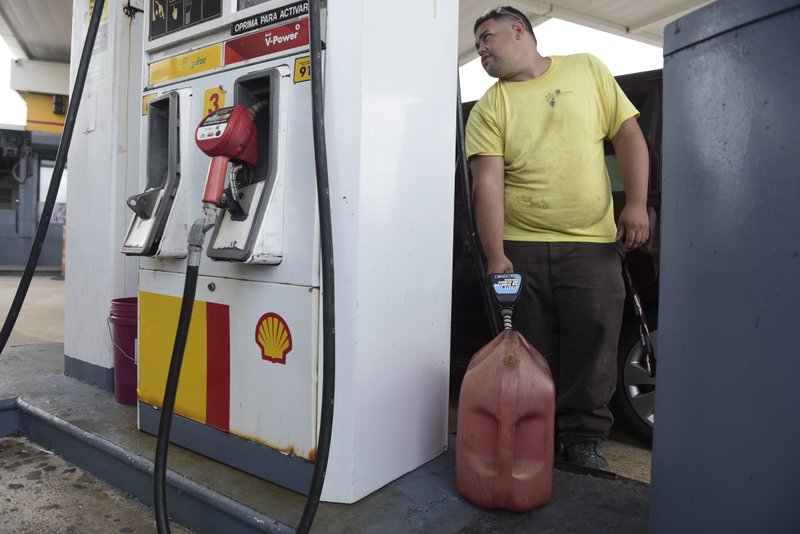 Iris Tosado, a 64-year-old widowed housewife, scanned the nearly empty shelves before heading back home. She and her disabled son planned to spend the storm with relatives because their home is made of wood, and she prayed that it would not be destroyed.
"God, it's the only thing I have,'" she said. "This is not looking good."
Maria ties for the eighth strongest storm in Atlantic history, when measured by wind speed. This year's Irma, which had 185 mph (300 kph) winds, ranks second.
Hurricane center forecasters said it "now appears likely" that Maria will still be at Category 5 intensity when it moves over the U.S. Virgin Islands on Tuesday night and Puerto Rico on Wednesday, bringing with it "life-threatening" flooding from rain and storm surge.
Forecasters said the storm surge could raise water levels by 6 to 9 feet (1.8 to 2.7 meters) near the storm's center. The storm was predicted to bring 10 to 15 inches (25 to 38 centimeters) of rain across the islands, with more in isolated areas.
To the north, Hurricane Jose stirred up dangerous surf and rip currents along the U.S. East Coast, though forecasters said the storm was unlikely to make landfall. Big waves caused by Jose swept five people off a coastal jetty in Rhode Island and they were hospitalized after being rescued.
A tropical storm warning was posted for coastal areas in Rhode Island and Massachusetts, and tropical storm watches were up for parts of New York's Long Island and Connecticut.