All Churches in US Receive Ken Ham's Latest Book
Nearly 300,000 Churches Are Mailed Gospel Reset
on September 19, 2018
Editor's note: This article was adapted from a news release that was recently distributed to the media.
Ken Ham's revolutionary new book, Gospel Reset, has just been sent as a mass mailing to 266,000 American churches, along with complimentary tickets for church leaders to visit the three leading world-class Christian themed attractions in the US. Tens of thousands of additional copies are being shipped to churches in several other countries.
Through the suggestion and generous contributions of a group of supporters of Answers in Genesis (AiG), the ministry Ham leads, AiG recently shipped this hardcover book along with two complimentary tickets to its popular attractions, the Ark Encounter and Creation Museum, and the striking new Museum of the Bible in Washington, D.C., to church leaders.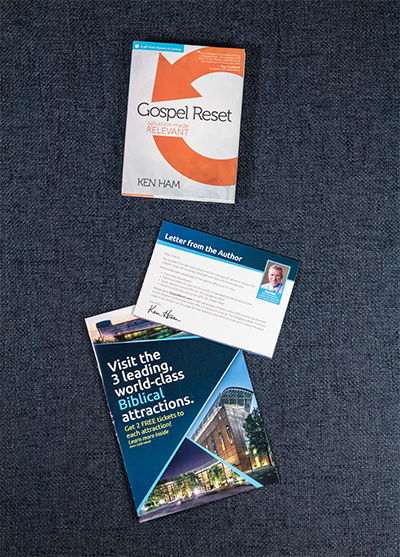 It's another major AiG effort to impact and help revitalize the church in western nations. Gospel Reset shows churches and all Christians how they could be more effective in evangelizing a secularized culture. It also reveals how the gospel message of Jesus is rooted in Genesis, such as the prophetic verse of Genesis 3:15.
Ham noted, "In our modern era, it's much harder to get people to listen to Christ's gospel message. Church leaders need to be aware that the methods used decades ago, which saw such wonderful results, are no longer as effective. People in western cultures have changed their thinking. The gospel has not changed, but the means and methods to present Jesus' message to non-Christians need to be reset if people are going to listen."
Ham added, "Of all the outreaches we've done since the opening of the life-size Ark in 2016, this is the one that excites me the most. Our main priority, as seen through books like Gospel Reset and our two Bible-themed attractions, is to be a ministry to the church first. We seek to help the church reach the whole culture with the truth of the Bible, beginning in Genesis."
Working closely with the book's publisher, Master Books, AiG mailed packages to 266,000 churches in America and to tens of thousands of churches in Canada, Australia, New Zealand, England, Wales, Scotland, and Northern Ireland. The total is nearly 300,000 copies.
What's So Unique About This Book on Evangelism?
Gospel Reset emphasizes the importance of equipping believers with answers to the secular objections of the day regarding the authority of the Bible and who Christ is. The book powerfully presents the necessity of teaching apologetics, so underused in the church today.
Dr. Johnny Hunt declared, "Ken Ham gives clear, concise, and compelling hope to reach this changing world with the good news of Christ."
Gospel Reset has been endorsed by two recent presidents of the Southern Baptist Convention, the largest Protestant denomination in America. Dr. Johnny Hunt, senior pastor of First Baptist Church Woodstock, Georgia, declared, "Ken Ham gives clear, concise, and compelling hope to reach this changing world with the good news of Christ." Dr. Ronnie Floyd, senior pastor of Cross Church in Arkansas, wrote that Ham's book "gives us practical ways we can communicate the gospel in a relevant way effectively."
Research by Ham and respected pollster Britt Beemer has shown how unbelief about Genesis and the rest of the Bible has greatly contributed to the exodus of so many young people from US churches. In addition, the Pew Research Center has documented a steep decline in American church attendance over the past fifty years.*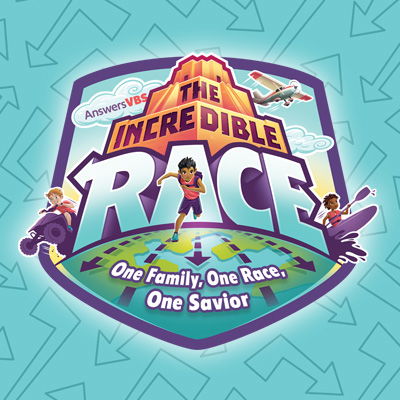 Learn about our
2019 Answers Vacation Bible School
today!
The worldwide mailing includes Gospel Reset and a brochure that promotes three biblical attractions: AiG's Creation Museum and Ark Encounter and the stunning Museum of the Bible. (Church leaders are offered two free tickets for each attraction.) Also included is information on AiG's 2019 highly popular Vacation Bible School curriculum for children that deals with the "race" issue, and a flyer on AiG's four-year Sunday school Bible curriculum for all ages, "Answers Bible Curriculum."
Gospel Reset is a small format, hardcover book with many illustrations. The book and the other enclosures were mailed in clear plastic so that much of the book is highly visible, helping to catch the eye of the church leader. Ham included a letter that offers not only the two free tickets for church leaders to visit the three leading biblical attractions, but also access to several free video downloads.
Which Churches Have Received the Book?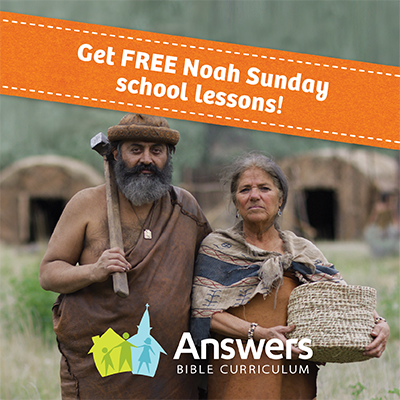 Give our
Answers Bible Curriculum
a try with our free lessons!
The package is being sent to all kinds of churches (Baptist, Presbyterian, Methodist, Lutheran, Roman Catholic, etc.) across the nation. AiG seeks to impact them with the message that the Bible can be fully trusted. AiG encourages all church leaders not to compromise the Bible in Genesis, which is increasingly happening in churches, Bible colleges, and seminaries.
Ham noted, "Our publisher, Master Books, has graciously agreed to print 300,000 copies for only their raw cost. While this is still an expensive package to mail to so many churches in many countries, Master Books has made this possible, along with special donors."
Ham concluded, "Ultimately, we want church leaders to read a fresh perspective of how to present the gospel today. Many of the old methods to share Jesus are just not as effective."
"Ultimately, we want church leaders to read a fresh perspective of how to present the gospel today."
Answers in Genesis is an apologetics (i.e., Bible-defending) ministry based in northern Kentucky, near Cincinnati. Its Ark Encounter attraction in nearby Williamstown, Kentucky features a massive 510-foot-long Noah's Ark as its centerpiece. Each year the Ark has drawn over a million visitors. The Creation Museum (west of the Cincinnati airport) has also become a major family attraction in the Midwest. For more information on AiG, visit www.answersingenesis.org.
*"Religion Among the Millennials," Pew Research Center, February 2010, A Pew Forum on Religion & Public Life Report.